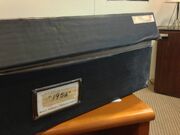 The 1952 Box is a mysterious, old banker's box found deep within the Animation Building at the Walt Disney Studios. Its contents include various items and artifacts dating up to the late 1960s. These items include reference material, concept art, photos, memos, books, comic books, newspaper clips, blueprints, machine parts, props, and other assorted relics.
The box reflects Walt Disney's unbridled optimism and hopes and dreams for a better tomorrow. The dreamy fascination with space, technology, and exploration; the drive to create innovative forms of entertainment; and the desire to harness the power of imagination to cultivate new ideas that could build a more vibrant and vital future.
The box is a banker's box, a form of storage that is no longer used at the Studios for archiving. The box is made of cardboard and is heavily dented and worn. The production label reads "That Darn Cat", but someone put masking tape over it and hand wrote "1952" in pen. Right to the production label, there is another label with various numbers and letters, and a Plus Ultra stamp.
The 1952 Box was found in the summer of 2008, deep inside a basement of the Walt Disney Animation Building known as The Morgue, the final resting place for artwork and projects produced by Disney employees. The box was brought to the attention of filmmakers Brad Bird and Damon Lindelof, which inspired them to make a film based on the contents of the box.
The 1952 Box and its contents were put on display on August 9th at the 2013 D23 Expo. The box was presented first at a panel with Brad Bird and Damon Lindelof, who proceeded to discuss the most intriguing items in the box. Then a large exhibit was unveiled, dubbed the "1952 Collection", which displayed nearly everything from within the box.
Community content is available under
CC-BY-SA
unless otherwise noted.