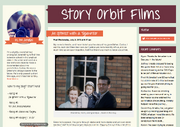 Story Orbit Films was a blog owned by Amelia. She used this blog to help uncover her Grandfather's past and his ties with Plus Ultra. In her first post she discussed her Grandfather, Carlos, his passing, and the person he was.
The blog went on to include posts of Carlos' Personal Effects, photographs of him, videos, photos, findings, personal thoughts, etc. In her last post, she thanked her followers for their help and support and gave them a video of the journey.
The blog closed sometime between mid or late 2014 and currently the domain storyorbit.com is for sale.
External links
Edit