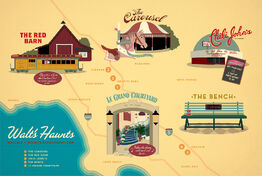 Walt's Haunts  are a series of locations frequented by Walt Disney during his lifetime. Many of these places would go on to influence Walt Disney's concept and creation of Disneyland. The locations were also designated Plus Ultra meeting and recruiting outposts.
Tam O'Shanter
Chili John's
Griffith Park
Carolwood Pacific Railroad
Disneyland

Main Street Opera House
Walt's Apartment
Main Street Cinema
Court Of Angels
Club 33
Mark Twain Steamboat
In July of 2013 Amelia was going thru some of the personal belongings of her grandfather, and Plus Ultra member, Carlos Moreau. While glancing over the items, she noticed a paper napkin bearing the logo of Tam O'Shanter, a Scottish restaurant in downtown Los Angeles. She posted it to her blog, and asked her followers living in the area to visit the Tam, specifically Table 31, Walt's Table. At the Tam, Amelia's followers discovered at Walt's Table several markings and carvings embedded in the table. At table's wall was a poster with a web address: disneycartography.com.
It was discovered that the website belonged to an artist named Wallace. Unbeknownst to Amelia and her followers, Wallace was a recruiter who deliberately placed clues in his art with specific times and places.